Oh it's time to review the second and unfortunately the last book of The Wrath and the Dawn duology. I loved, loved, loved this duology, I just cannot tell you how much I loved it. I loved the characters, Khalid is AH...amazing, I love him. Shahrzad is fierce and not afraid of anything and I freaking love her. The world? Every time I was reading these books I just wanted to jump right in and live there lol. All the side characters were lovely or monstrous and you just connect with everything that Renee writes. I love her writing style and her work. And let's stop right here and jump to this review...
The Rose and The Dagger by Renee Ahdieh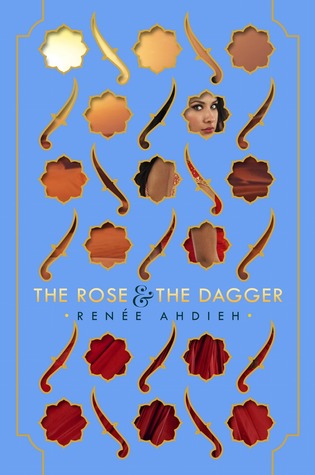 Shazi is forced away from Khalid all because of a curse. A curse that threatens to keep both of them apart forever.
Shazi is reunited with her family, who have found refuge in a desert, but she isn't so sure about this place because in this desert there is a force set to destroy Khalid and his empire and the worst is that this force is commanded by Shazi's childhood sweetheart. She finds herself trapped between those she loves and the only thing she can do is act.
Shazi finds herself using the magic within her as a guide and she strikes out on her own to end both the terrible curse and the war to come. But in order to it she must evade enemies of her own to stay alive.
In this final book we get to see Shazi even more fierce and courageous than the first book, and this girl is not afraid to risk anything to save those that she loves. And she is not afraid to face those that she hates the most to save the ones that she loves the most. And I loved to see Shazi risking everything for her love for Khalid. And Khalid? He is so cute in this book, we got to see another side of him, but don't worry the crazy and courageous Khalid was there too.
I loved, loved to see Shazi's sister, she was everything that I thought she was going to be and when she got to meet Khalid? Priceless...Tariq, I'm going to confess, there were times that he drove me crazy but like any sequel, by the end of the book I thought he was tolerable. :)
Most of the other side characters I really enjoyed and loved, there were some new ones and old ones too and AH...you just connect with all of them and just be prepared to have your heart broken too. That's all I'm going to say.
Overall, an amazing sequel and conclusion, 5 out of 5 stars for sure and these books did become some of my favorites this year!!!
Recommend? ABSOLUTELY!!!!
XOXO,
Nelia