This was my first time reading a reverse harem book and I'm happy to report that I liked it, well I more than liked it, I was totally hooked on it and could not put the freaking book down and now I need more of it. Are all reverse harem books like this one? If so send me some recommendations, because I need them in my life and if you find one with aliens on it, then those are the ones that I want. Because this book is an alien reverse harem and OH MAN, Siobhan knows how to write books with Aliens and with the reverse harem on it, it just blew my mind. lol
Okay, I'm going to stop blabbering and get to the review...but first, let me start by saying that I received an eARC from the author for my honest review but as usual that did not affect my opinion at all. Let's do this :)
The Lost Savior by Siobhan Davis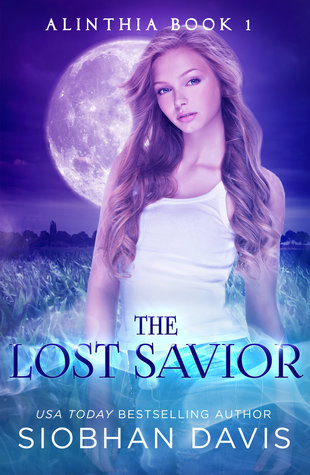 The story falls Tori King, a normal senior in high school who lives in a small town and has a super normal life. Her parents own a farm and she has been in love with the same guy since they were little kids, they are childhood sweethearts and they only thing on her head is planning to go to college and start a life with him.
But everything changes during one night when she is out with her friends doing a typical teenager thing, shopping for a dress for the prom. She is confronted with a guy that shows interested in her, she tries to get away from him but they ended meeting him in the middle of the road and from there things just go south. She fights in off with unbelievable moves and abilities that are unreal. After the fight, four hot new guys arrive at her school and they just become interested in her like nothing before, the worst is that she feels the same way, she feels a pull towards them that she cannot explain and that just complicates her whole entire life.
When things starts to get worst, the boys reveal their true identity to her and why they are really there and Tori finally realizes that her whole entire life was really a lie. There is nothing normal about her and she needs to start to figure out how to cope with the truth, but most importantly she needs to figure out how to work out her feelings towards the new guys asap.
Wow, this book was a roller coaster, it kept me on the edge of my seat. Not only was I trying to figure out what the heck was Tori going to do about all those guys, because come on...I would freaking lose my mind (well maybe not, maybe I wouldn't mind trading places with her lol). But the poor girl had to come to terms about who she really was and them train and them fight off aliens. OMG...so much happening but at same time you want more. I love how all the boys had really different personalities, you really get to know them right from this book and start to cheer for one or the other or maybe for all of them :)
I totally recommend this book to anyone that loves alien romances with twists and some action on it. You get it all!!! 5 out of 5 stars for sure. Cannot wait for the next one!
XOXO,
Nelia