Can you believe that we are in the middle of August? I can't...not only Summer flew by (which makes me wicked sad) but this year is flying by too quickly. Who's with me?
By anyways, let's get back to today's topic and review another book, because with Summer I get really behind on review books...don't blame me, wait, blame me, I just get really lazy during summer. I just want to suck up the sun and read. lol
Let's do this:
Everything Leads to You by Nina LaCour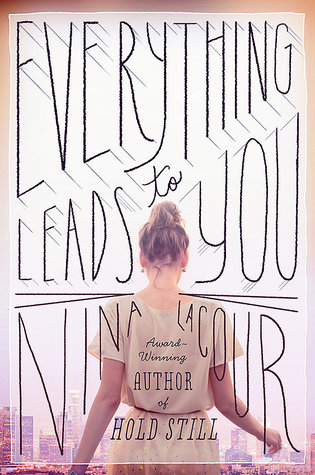 From GoodReads:
A wunderkind young set designer, Emi has already started to find her way in the competitive Hollywood film world.
Emi is a film buff and a true romantic, but her real-life relationships are a mess. She has desperately gone back to the same girl too many times to mention. But then a mysterious letter from a silver screen legend leads Emi to Ava. Ava is unlike anyone Emi has ever met. She has a tumultuous, not-so-glamorous past, and lives an unconventional life. She's enigmatic…. She's beautiful. And she is about to expand Emi's understanding of family, acceptance, and true romance.
------------------------------------------------------------------
This book, first of all it was like nothing I had read before but at the same time just like another contemporary, you know what I mean?
Emi, she is out going, friendly, works in the film industry designing movie sets and she has an ex-girlfriend that plays with her heart too many times and she is just done with her. She is ready to move on from her and find her way to better things.
One day, Emi finds a mysterious letter from a silver screen legend that leads her to Ava. Ava is a mystery that Emi wants to uncover and she just head over heels to find out everything about her. She wants to find her and once she finds her, she decides that she wants to help Ava find out about her past. While she sets her mind to find help Ava find out about her past, the two find themselves growing closer and closer.
Emi also finds herself in charge by herself, for the first time, of a movie set. It's her dream and she is ready to prove herself to everyone, including herself that she can do this one project before she goes off to college.
Ah, I don't want to give out any more, but read so you will know if Emi proved herself on the set of this new movie. And of course, find out what happens between Emi and Ava, because quite a few things happen between those two.
I loved reading this book, it was surprisingly, a light read but with quite a few twists and that was the kind of book I really enjoy.
Do I recommend it, of course and I gave this book 5 out of 5 stars so I really recommend it, right?
XOXO,
Nelia