Holly Crap!!! Yes, that's how I'm going to start this post, because this book is like nothing you have read, yes it sounds and while you are reading will start to look like your typical YA romance book but the twists and turns that Siobhan throws at you? Yes, there is nothing like a Siobhan twist...let's jump at the review:
I received a Beta Copy and an Advance Copy from the author Siobhan Davis for my honest review and here it is.
Finding Kyler by Siobhan Davis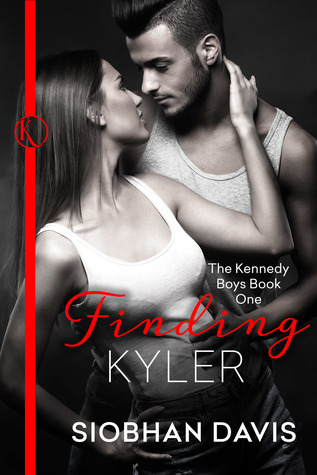 Faye Donovan is alone in the world, she has just lost both her parents in a tragic accident. But life just keeps playing tricks with her because out of nowhere an unknown uncle surfaces as her new guardian. He shows up at her home in Ireland to pick her up and bring her all the way to the United States, away from everything she has known her whole life.
She isn't too happy but then again she doesn't have a choice as she is under age and she has to go with her new uncle and follow him to America, she decides to do it as her eighteen birthday is only a few months away. Soon, Faye finds out that her Uncle is very, very wealthy and married to a fashion-empire-owing wife and they have more money than anyone should have. Something else that they have more than enough is kids, seven in total and all boys and soon after meeting all of them Faye finds out that all seven are kind of screwed up on their own and things kind of turn into a nightmare.
The worst nightmare is when certain inappropriate feelings arise between Faye and Kyler Kennedy, her cousin. He is off limits, for SURE. And he is not the most friendly and welcoming of them all. Kyler is ignorant, moody and cruel at times, but for some reason, Faye starts to fee behind the mask he wears and they kind of start to get each other.
Kyler in the other hand has sworn off girls, he doesn't want to get involved with them. But Faye starts to get under his skin, the more he pushes her away the more he wants her.
Together they decide to keep their feelings a secret, but a secret is dangerous, very, very dangerous. Especially when other people have secrets of their own.
Screwed up family? Let's talk about how screwed up this family really is, Faye's uncle for me is the most screwed up of them all and his marriage together with it. The brothers? Each of them have something going on and OH Man, six times screw ups (not counting Kyler) every time I though, Oh this one is not that bad, something about that one would appear. WHAT? I just want to grab this whole family and rehabilitate it myself, they all need help, really bad. Wait, I don't think I can do it, they all past the help. Wait, I don't think I would mind rehabilitating some of the brothers, they are pretty hot lol. Okay, back to some serious stuff, they all need help and hopefully we will get to see them getting some.
The end of the book, the twist was a freaking bomb that I wasn't not expecting and I really am hopping that it isn't true. I have come up with a million different scenarios for it to not be real. This is killing ME.
Seriously, if you love romance and drama, lots of it, them this book is definitively for you.
4.5 out of 5 stars. Can't wait for the next one.
XOXO,
Nelia