Have you started reading The Winner's Trilogy yet? If you haven't, OH My, you are missing out on one of the best trilogies written yet. Let's start by saying that it's
Unique
, because there really isn't another like it out there. The romance? OMG, yeah it's totally unique too and you will see yourself falling for the characters like nothing before. The world? Amazing. And the characters? You finish the book and you start to crave more for them all over again. I haven't sold you yet? Here, read my review on the first book:
The Winner's Curse
and then after you read that one or if you have read that one you can read my review on the second book
The Winner's Crime
. And of course if you have read both of them and are here to read the third book's review, I'm going to shut up and get to it :)
The Winner's Kiss by Marie Rutkoski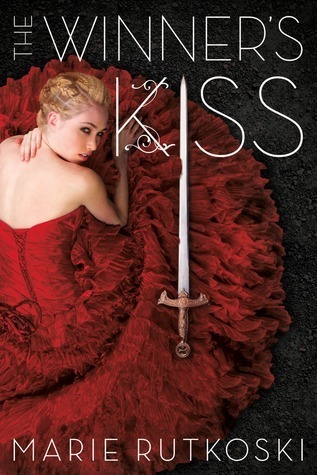 With the Empire as Arin's enemy, he has made allies with some untrustworthy new people but he will do anything to win this War that has already begun. And he also has convinced himself that he no longer loves Kestrel but at the same time he just cannot forget her. He just doesn't understand how she cared more for the Empire than she did for the lives of innocent people and most importantly than she did for him.
Well, at least that's what he thought...
In the north, Kestrel is a prisoner in a brutal work camp. She tries every day for a way to escape and she wishes that Arin would know what she sacrificed for him. And more than anything she wishes she could make the Empire pay for what they have done to her.
But no one gets what they want just because they wish for, right? Or maybe they do?
The war intensifies and both Kestrel and Arin discover that the world is changing, one side is against the other and they are both caught in between. With so much to lose can anybody really win?
Will Kestrel escape the work camp? What about the war? Who will win? Will Arin find out what Kestrel did for him and forgive her finally?
This book was everything you wanted in a final book and
more
. I loved, loved and loved this book. You got action from the war. You got to see how the relationship between Arin and Kestrel resolved and I'm not going to say anything more about it because there was so much development in that department that you really need to read the book. And I loved so many of the side characters in this book, they are amazing in their own way, but they also made the book too.
5 out of 5 stars for sure. I wouldn't mind if Marie Rutkoski made these books into a series instead of a trilogy, because you easily could have done it, because of the political and war issues that happened...but she sure knew how to end it well in just three books, well done. I'm sure going to miss these characters and I really do see myself re reading these books again in the future.
TOTALLY recommend this trilogy.
XOXO,
Nelia