AHHHHH...yes that's how I'm going to start this post, because it's time to start reviewing one of my favorite series. When it was finally time to take a break from TMI series and pick TID series up, I was like: Ok, let's see what the hype is all about this series. But once I started reading? I didn't want to stop, well I didn't want to continue so I didn't have to finish it, you know what I mean? I think I just confused myself too lol lol
These characters, OMG, I don't think I have ever felt so attached to characters like the ones on TID. Okay, okay, let me stop right now and get to the review...let's do this:
Clockwork Angel by Cassandra Clare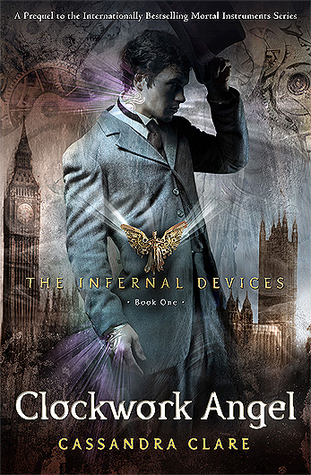 It's 1878 and Tessa Gray arrived in London searching for her missing brother, what she didn't except was getting in the middle of a supernatural underworld. Soon, she discovers that her only allies are the demon-slaying Shadowhunters-including Will and Jem, the mysterious boys that she is attracted to. They end up finding themselves up against the Pandemonium Club, a secret organization of vampires, demons, warlocks, and humans. The Club is equipped with a magical army of unstoppable clockwork creatures that is out to rule the British Empire and only Tessa and the Shadowhunters can stop them.
If you have been reading the The Mortal Instruments you know the Shadowhunters and their world but getting to know the Shadowhunters from 1878? That is a total different and familiar thing and I loved, loved it. The whole London institute is amazing, and you get to start loving every single character even if you don't want to. But Will and Jem? They are just another thing altogether, they are what makes the institute and bring live and light and passion and everything in between and you just cannot get enough of them.
Will, he is the non stop fighter cracker and Jem? He is the soft and delicate and gentleman of the institute and the best thing is that both of them are the same age and best friends. Tessa falls for both of them and you will think that you will hate her for it and get aggravated, but no, of course not. Cassandra Clare just knows how to make you love and understand Tessa and take her side when things are not going well. Ah, so amazing.
Of course, there is romance but let's not forget the fight that they are having with the Pandemonium Club. There is no much happening, the Club is this huge puzzle that the Shadowhunters are trying to put together and of course once you are reading you are trying to put it together too :). Once they find out one thing, there is always something else that happens, making the puzzle harder to complete. Is it aggravating? Sure, but at the same time that's what you want in a book, right? At least, I do, I don't want to be able to solve everything right away and the TID knows to get you glued to it and trying to figure out what's next.
And once the first book was over, there was so many questions left answered and cliffhangers but the best time was that the whole series is all out and I didn't have to wait a year or long for the next one. I think I'm all out of breath from us typing this review lol. But seriously, if have started yet TID, do it because there is just one thing that will happen, you will fall in love with it. :)
Do I recommend this book? OMG, totally and my rating? 5 out of 5 stars, I LOVE it.
XOXO,
Nelia