Holly Macaroni...it has been a while since I have done a weekends read, it sure hasn't been because I haven't been reading, because I have been reading a lot lately and loving the last few books too. I'm really excited about the books that I will be reading this weekend. Why? Let's find out:
1. Saga Volume 7 by Brian K. Vaughan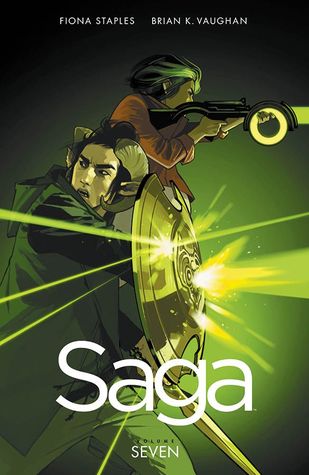 I was at my library this week and I saw Volume 6 and 7 of Saga there and I it realized that I hadn't read those 2 volumes yet so of course I grabbed them. I have already devoured Vol 6 and will do the same to Vol 7 this weekend. I love these two characters, they are funny, badass...what else can we ask for?
2. Shadow and Bone by Leigh Bardugo
Yes, I am FINALLY going to start this trilogy. I really can't believe that I'm doing...I can't wait to find out what the heck the hype is all about and what the story is about too. I really haven't spoiled myself even after all these years. lol
What are you reading this weekend? Can you believe it the end of July already? SLOW down Summer :)
XOXO,

Nelia