Okay, let's do this, time for another book review...and today we are reviewing a dystopian book. I don't get to read that many dystopian books anymore, I promised myself to read more genres and I'm happy that I have accomplished that goal, but at the same time I miss reading dystopian books so I'm going to have to remedy that...yeah that sounds good.
Here is today's review:
Flawed by Cecelia Ahern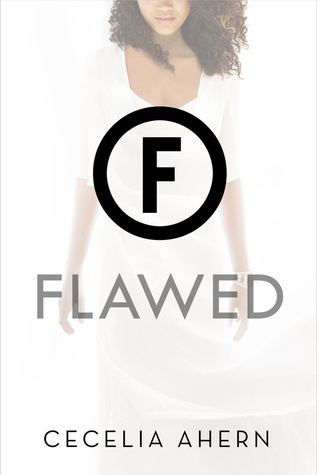 From GoodReads:
Celestine North lives a perfect life. She's a model daughter and sister, she's well liked by her classmates and teachers, and she's dating the impossibly charming Art Crevan.
But then Celestine encounters a situation where she makes an instinctive decision. She breaks a rule and now faces life-changing repercussions. She could be imprisoned. She could be branded. She could be found FLAWED.
--------
Flawed takes place in a society where everyone is supposed to be perfect, you make a mistake and you are branded Flawed and you pretty much become an outsider, who people don't want to talk to, who people feel disgust by. And because of the way they live, everyone tries to be Perfect, tries to never do something that will make them be judged and become Flawed.
Celestine has been a perfect role model her entire life, she believes in been perfect and she has always believe in the laws and the government, but when one morning she finds herself in a situation where her life turns 180 degrees? She starts to doubt everything she always believed.
This was such a different book to read, but a book where we can learn from it at the same time, how would like to be perfect? But then we see how the whole society lives and when Celestine gets judged by what she does we start to see all the flaws that whole society actually has. Loved the writting, love characters...can't wait to read the next book. 4 out 5 stars.
XOXO,
Nelia