Aright, since my dad got sick and I got bronchitis I have been on a book slump, I really need to get over it quick because it's affecting everything, even doing book reviews. AH, HELP! Let's try to remedy this by doing a book review today...that's step one. Actually step one was going back to my Yoga classes, because I stopped going because of the running around that I had to do while my dad was at the hospital. But just last week alone I went 5 days and I have been feeling amazing and dead...lol. Now, I just need to get my reading back on.
But first let's get back to today's topic which is a book review:
Amy & Roger's Epic Detour by Morgan Matson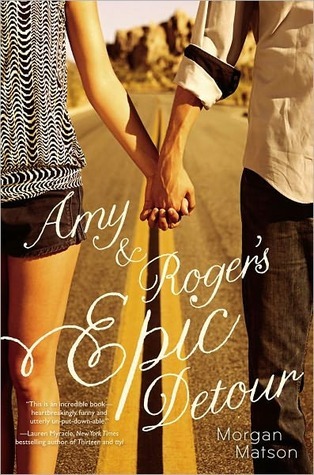 From GoodReads:
Amy Curry is not looking forward to her summer. Her mother decided to move across the country and now it's Amy's responsibility to get their car from California to Connecticut. The only problem is, since her father died in a car accident, she isn't ready to get behind the wheel. Enter Roger. An old family friend, he also has to make the cross-country trip- and has plenty of baggage of his own. The road home may be unfamiliar- especially with their friendship venturing into uncharted territory-but together, Amy and Roger will figure out how to map their way.
I want to start by saying that Morgan Matson doesn't not disappoint, she really nails it in every book that she writes. She is definitely one of the authors that is on my auto buys list, ah okay back to the review on this book.
Amy's dad passed away in a car accident and her mom decides that the best thing for the family is to start fresh and they are moving from California to Connecticut. Her mom moves first and then Amy is in charge of bringing their car to Connecticut, but she refuses to drive as she isn't ready to get behind a wheel yet, which we find out why about halfway through the book. Her mother's friend's kid, Roger agrees to drive the car and Amy to Connecticut as he is also going to the east coast to spend the summer with his father.
At first they don't know what to say to each other, they kind of remember each other from when they were little kids but that's about it. Amy's mother has their road trip all planned out for them including the hotels where they should sleep and everything but what she didn't they was that Amy and Roger would plan a little detour of the trip and see and take care of a few things along the way. A trip that was suppose to take 4 days ended up taking a few extras days getting Amy's mother upset with her but most important it ended up been an epic detour for both Amy and Roger and a detour that both of them needed. Amy got to see and got to come to terms on a lot of things that she never thought she was ready too and Roger? What he thought he needed ended up been the opposite, but at the end? It was a great story about friendship, family, music and road trip fun for sure.
The end of the book was not what I was expecting but, for it was also nice that this book focused on something else other than romance and I totally recommend it if that's what you are looking for.
To conclude? 5 out of 5 stars, amazing writing, amazing story line and who doesn't like a book with music? That's definitely a plus!!
XOXO,
Nelia