I finally got around to read this book and I gotta say it was pretty damn good...let's just jump right into the review:
A Torch Against the Night by Sabaa Tahir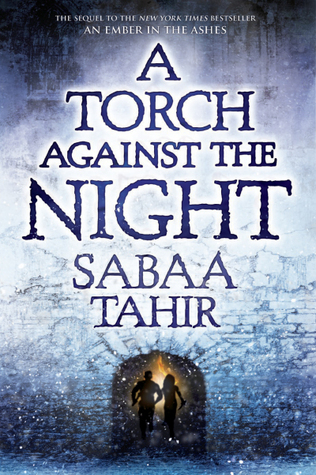 Elias and Laia are running for their lives as the Martial soldiers are hunting them down. Laia is determined to break into Kauf-the Empire's most secure and dangerous prison-to save her brother, who is the key to the Scholars' survival. And Elias is determined to help her succeed.
But dark forces, human and otherworldly, work against Laia and Elias. The pair must fight every step of the way to outsmart their enemies: the Emperor Marcus, the Commandant, the Warden of Kauf, and most heartbreaking of all, Helene-Elia's former friend and the Empire's newest Blood Shrike.
Helene in the other hand bound to Marcus's will faces the worst mission of all, one that might destroy and break her: find the traitor Elias Veturius and the Scholar slave and kill them both.
In this book we not only get to know more about Elias and Laia but we also get to know so much more about Helene. At the beginning I wasn't too happy about reading her chapters but the more I read them the more I liked her and by the end of the book I wanted more of Helene and was rooting for her all the way. She is my new favorite character for sure and I cannot wait to find out what is going to happen in the next book and how Helene will act. Ah, it is going to be epic!
Laia, she started off the book so strong and fighting everything and everyone in front of her, including Elias and then she softened to him, but also to other people around her and that let to some not so good things. But she came around again towards the end of the book and became the Laia that we know and love and fought with all her will. And her power? Freaking amazing, can't wait for her to find out more about it.
Elias...Oh Elias, I love this character way too much and I don't if I'm okay with what is happening to him. What will happen next? I don't know, he has a very strong will and maybe that will change things? I don't know but I'm nervous, I will admit. Throughout this book, we saw him fighting for his life, for Laia's life and for Darin's life too. And I don't remember the last time we met a character so humble like Elias, I just want to go and find him and bring him home, because I will take care of him, that's for sure.
I really hope that the next book gets pushed to be release earlier than 2018 because I really need it now, I can't wait another year, come on...I loved this book, 4.5 stars and can't wait to continue with this series!
XOXO,
Nelia