With 2016 behind us, I wanted to do a quick wrap up of it and I have been watching YouTube channels and one video that keeps popping up is this reading survey so I wrote down the questions and decided to do it here. One of my BookTubers that I watched frequently did it and I really enjoy her channel and if you love to watch BookTubers and are looking for more channels check her out: this will bring you to the video of her doing this tag:
Bookables
Let's do this:
2016 Reading Survey
Questions:
1.
How many books did you read? Did you meet your goal?
I read 105 books last year and my goal was of 100, so YEEPEE I totally surpassed my goal.
2. Most read genre?
I read a lot of variety of books this past year which I am so happy about it, I don't think I read more of one genre than the other, there were lots of contemporary, but also lots of fantasy so maybe those two were my top two?

3. Longest and shortest books you read.
My longest book was A Court of Mist and Fury with 626 pages and my shortest one was The Other One with 32 pages. Yeah, big huge difference. lol

4. Favorite book published in 2016?
Published in 2016 it would have to be A Court of Mist and Fury.

5. Favorite debut book in 2016?
I actually just finished a 2016 debut book but it's 2017 so unfortunately I didn't end up reading any :(

6. Favorite book not published this year?
Not a surprise if you have been reading my reviews, Ruby Red...I LOVE this book and trilogy.

7. A book that lived up to the hype.
The Book Thief, I was really afraid to read that book and it's one of my favorites now and I read it at the very beginning of the year.

8. A book that did NOT live up to the hype.
People will probably kill me, but I did not fall in love with Illuminae, sorry.

9. Book that felt like the biggest accomplishment?
I'm going to say more like a trilogy than a book, the Infernal Devices, I really wanted to get to it this year and I did and I loved it.

10. Favorite character.
Will from The Infernal Devices, he is my favorite this year!!! My quote on GoodReads it's from him, that's how much I love Will!

11. Least favorite character.
Count Saint-Germain from Ruby Red trilogy, I freaking hate that guy, I hated him from the beginning.

12. Most shocking book/moment.
The end of The Traitor Baru Cormorant, if you haven't read this book yet, trust me you need to read it. High fantasy, science fiction and need something with political intrigue? This is the book for you and you will NEVER guess the end until you are there and you will hate it and then read that last page over and over again.

13. Favorite couple/OTP.
One, do I just pick one? Will and Tessa for sure, one more at least; Feyre and Rhys.

14. The best written book you read this year.
Salt to the Sea. I loved the story line but the writing? Amazing!

15. Book that you pushed the most people to read in 2016.
The Book Thief and A Monster Calls, both amazing books with amazing stories.

16. Favorite book cover of the year.
If this doesn't scream summer, and who doesn't love dogs and ice cream? It's just beautiful.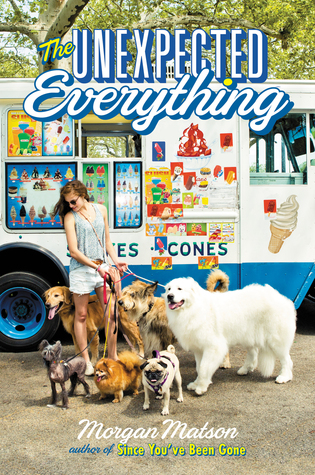 17. Favorite adaptation.
Miss Peregrine's Home for Peculiar Children, I loved it. Yes, they changed a few things but somehow I still loved it.

18. What book made you cry the most?
That's a tough one, there were a few books that made me cry a lot this year and for different reasons too. The Book Thief was the first one, then Me Before You at the beginning of the year and then I went months without crying until I read Second Chance Summer, a contemporary mind you. Yeah a great year to cry with books.

19. What book made you laugh the most?
Ruby Red, even though Gwen had to go through some serious stuff she still could crack me up.

20. A new favorite author you discovered this year.

21. Guilty pleasure read of the year.
The Royals trilogy...yeah for sure.
First book of the trilogy

22. Favorite book you re-read this year.
The Giver, I read when I was in high and couldn't remember nothing for the life of me so it was the right time to re-read it.

23. Were you happy with your reading year? What will you do different in 2017?
I was extremely happy with my reading year, I loved that I read so many different genres this year and I'm planning to continue doing the same this year. I started to read more Graphic Novels this year and I really want to read a lot more of them in 2017, I just need to remember to put at least 2 of them each month on my TBR.

Nelia