Confession time, I have actually been dreading to do a review on this book. Why? Because people just love this book and I? I'm still not sure what to think about it...but let's get to the review of it.
Illuminae by Amie Kaufman and Jay Kristoff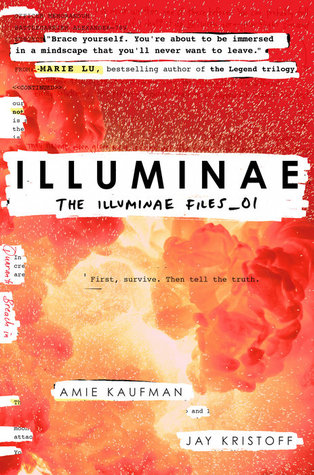 Kady broke off with her boyfriend that morning and she thought that was the hardest thing she had to do but then that afternoon her planet was invaded. Two rival megacorporations are at war over a planet that's little more than an ice-covered speck at the edge of the universe. The worst is that nobody thought to wan the people living it and now with the enemy raining down on them, Kady and Ezra (her ex-who she isn't even really talking to) are forced to fight their way onto an evacuating fleet.
Just when they thought they problems were getting better, things get worse, a deadly plague has broken out and is mutating, the fleet's AI, which is the one that should be protecting them, may actually be their enemy and nobody in charge is telling them was is going one. Kady decides to take control into her hands and she hacks into a tangled web of data to find the truth, and that's when she realizes that there is only one person that will her bring it all to light, her ex-boyfriend, the one she swore she would never speak to again.
The book is told in a very different way, you will read in emails, schematics, military files, IMs, medical reports, interviews and more formats and it's a really cool way to read it. But for me there were times that I felt something was missing. Towards the end, probably 75% of the book that's when things really started picking up and getting more interesting and I was really rooting for Kady. I know that some people loved this book but for me it lacked some things. I felt like we didn't really get to know Ezra that well and I really wish we did, he is still a stranger, right?
Well, hopefully the next book is better, will I read it? Yeah, I will give it a chance and hope that is better than this book. I gave this book a 3.75 stars.
XOXO,
Nelia