Ah, this is the final book in The Selection series and I know some people love this series and some people don't really like and I'm one of the ones that really enjoyed it. These books were my guilty pleasure, yes America was annoying sometimes and Eadlyn was a spoiled breath in the first book; but eh who isn't annoying and bitching in real life? lol When this book came out I just had to go and buy and see how it all ended and I was surprised how it ended...let's get to the review? Yeah, let's do it:
The Crown by Kiera Cass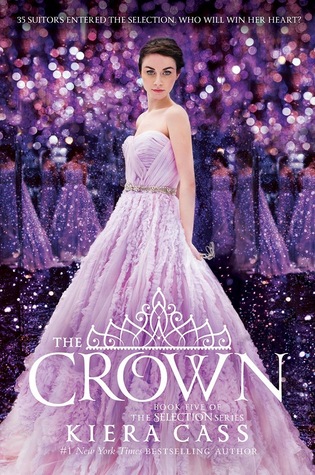 When Eadlyn was forced to hold a Selection of her own, she couldn't wait to it to over with and she definitely never thought she would fall in love with any of her suitors. But as palace events take place and force Eadlyn into the spotlight, she is realizing that she might not be happy to remain alone in the future.
She isn't sure that she will find the fairytale romance that her parents did but the heart has a way or surprising you and Eadlyn finds herself making a choice that feels impossible but the right one for herself.
I say even if you didn't like The Heir give this book a chance because it will surprise you. Eadlyn grew up in this book a lot, and I mean a lot. There are a lot of things that happens to her and her parents and the palace and Eadlyn finds herself making so many decisions. Decisions that she didn't think she had to make for at least twenty or more years down the line. Eadlyn grew on me, I can say that I liked her character in this book a lot more than the previous one. And I don't want to spoil the book but I just want to say that her decision in the Selection totally surprised me but in a good way and I'm actually happy now. At the beginning I'm wasn't so sure about it because I did like another one of the characters but after everything was explained, she was right and she followed her heart and picked the person that she was falling in love with.
Rating: 4.75 stars, I love Kiera Cass' writing and I'm really happy with how The Selection series wrapped up. And you have to admit, those covers are just stunning. :)
XOXO,
Nelia