Time to review another book, let's do this...
Soul Crossed by Lisa Gail Green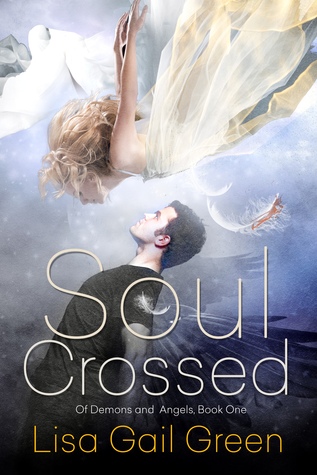 First off, Thank You NetGalley for this ebook and allowing me to read and reviewing this book.
We get two POVs in this book, the girl's and the boy's and that is very rare in YA books and I love when we get to know the boy's POV. Okay, okay, let's get to review already lol.
Josh has always lived a reckless and selfish life and when he dies, escaping the eternal torments of Hell he needs to assume the role of a powerful, soul-corrupting demon and that for him was an easy choice to make. His first assignment is the soul of mortal Camden who is obsessed with weapons, pain and torture. So, Josh only needs to get closer to him and get him to commit a crime that will get Camden's soul to the dark side. Josh thinks that this assignment couldn't be easier, that is until he meets Grace, Cam's beautiful friend. There is something about her that keeps him distracted...
Grace was always the responsible and good girl growing up and she never expected to die violently at the age of sixteen, but now she is an Angel and responsible for saving a soul. She needs to save Camden's soul, she can see Cam's flaws and she thinks she can bring him back to the good side, so her job seems pretty easy. That is until Josh comes along and becomes friends with Cam and gets in her way
all
the time. And why does he have to be so handsome?
One thing that is forbidden is for an Angel to be with a Demon, so if Josh and Grace don't stop getting into each other, things can get really disastrous.
I didn't think that I would enjoy this book as much as I did, well I picked this book because Demon and Angel? It sounded really good, but once I started reading I wasn't so sure I was going to like but a few chapters in and I really was totally into it. Josh was funny and you couldn't help yourself but like him even though he was a Demon. Grace? Even though she was the Angel of the story? She was the one struggling the most and Oh Man, I felt more sorry for her at times than Josh. Camden? I hated him, and I knew that Grace needed to save him but at the same time I just wanted to Josh to get him to go to Hell. AH, he was so frustrating and annoying. But, I don't want to spoil the story so if you want to know what happened to Camden you have to read the book and find out, but what I can say is it wasn't what I was expecting AT ALL and because of it I enjoyed the book even more. Josh and Grace's relationship was so cute and I totally loved out everything ended up.
I totally recommend this book and I will continue with this series; I just have to find the time lol. I gave this book 4 out of 5 stars.
XOXO,
Nelia