Reading Challenge...It's July so we are half way through this year already, so I thought it was time to do a quick update on where I am with my GoodReads Reading Challenge. My Goal this year is reading 100 books, as you know I did pretty good last year, my goal was 100 and I ended up reading 104.
So...so far this year I have read...drum rolls please:
Not bad, right? I know...pretty proud of myself, I really hope I keep on going like this for the remaining of the year lol.
Another Challenge/Goal for 2016 was to finish some series and here are a few that I have finish it so far:
1. The Infernal Devices by Cassandra Clare:
And OMG this one has become one of my favorites for SURE. AH the
feelings!
2. The Book of Ivy Duology by Amy Engel:
Another great duology; totally recommend it.
3. Anna and the French Kiss/Lola and the Boy Next Door and Isla and the Happily Ever After by Stephanie Perkins:
I loved these books so much and I've always wanted to go to Paris,but now? Even more.
4. Locke & Key Graphic Novel Series by Joe Hill:
This one wasn't even on my list but I've read it and really enjoyed it.
5. Eve by Anna Carey:
I had these books on my shelf for a couple years now or longer and I don't even know why I hadn't read them but now I have read them and I love it. They are an amazing dystopian trilogy and totally recommend it.
6. Boxers and Saints by Gene Luen Yang: Graphic Novel duology...I was looking for some Graphic Novel material to read and came across these and I really enjoyed it. The art was great and you get to learn some history...bonus.
7. The Winner's Trilogy by Marie Rutkoski: I have finally finished reading the third and final book of this trilogy and I cannot believe that it's over. I really enjoyed this trilogy and the reason that I did it's because these books are so different from all other YA books; you read them and get sucked in even if there is nothing happening for a while, you are still captivated. Love it and my favorite cover? Probably The Winner's Crime...love that blue.
8. The Selection by Kiera Cass: The Selection is over, these books...some people hated, some people loved. They were my guilty pleasure, that's for sure and when The Crown came out, I went out and bought it because I just needed to know how it all was going to end it. The end? Totally surprised me, so there, Kiera Cass did some something that people didn't see it coming. Thank You for this book and for all of them, i loved all of them.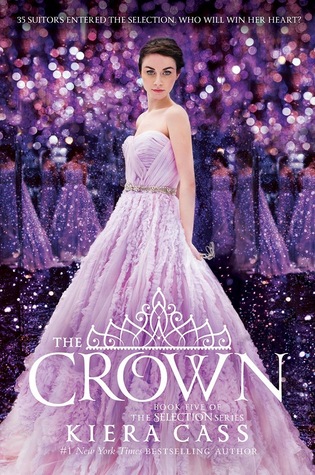 9. Vengeance Trilogy by Aaron Galvin: The author contacted me and asked me if I wanted to continue with this trilogy and he would provide me with books 2 and 3 and I couldn't say no, I loved book 1 and I knew that I was definitely going to read books 2 and 3 I just didn't know when. When he contacted that just meant that I was going to do sooner rather than later and sooner I did and did I love them? Heck yes, I did. Witches, revenge, family and lots of action...my kind of books. Totally recommend this trilogy.
I think that's about it for series that I have finished so far this year, I have a few more that I want to finish it this year and I am going to do it for sure, I promise. What are your reading goals for this year? And how are you doing so far?
XOXO,

Nelia