It's time to review another book and I can't believe it's time to review this book, I read this book back in February and I have been meaning to post this review before the movie came out and then when that didn't happen I have been meaning to go watch the movie and post a book and movie review BUT I haven't had a moment to go watch the movie so...I'm just going to post my review and maybe update it later after I watch the movie, right? Right...so, let's get to the book?
Me Before You by Jojo Moyes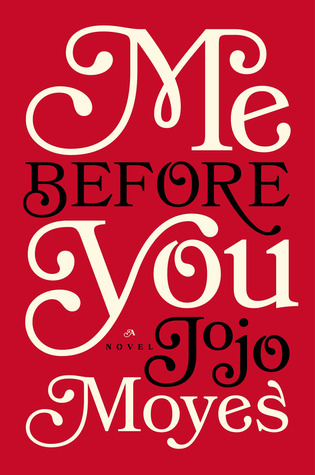 Lou Clark likes to know what is going on around her, like how many steps it takes from the bus stop to her home or that she really likes to work at her job in The Buttered Bun Tea shop and she also knows that even though she has a boyfriend she might not love Patrick. However she doesn't know that she is about to lose her job and that what's is coming will change her perspective in life forever.
Will Traynor loved life more than most people do and he enjoyed to the max, however a motorcycle accident took away his desire to live. He hates the way he has to live know and he is miserable every day and all day long and he does not hide that from everybody around him, but he also knows what he has to do to stop all that and he is going to put a stop to it.
What Will and Lou is that both their lives are about to interconnect and change one another forever. Lou never realized that taking care of someone like Will would open up so many doors and change someone so much as Will has done to her and Will never thought that Lou would be the one that could make him smile again but will it be enough?
This book, OMG...I know so many people have been reading and watching the movie so you know what I am talking about, but if you haven't read it, please do it, because you will love it. I spend the whole book thinking one thing then another, never knowing exactly what would happen and the ending...it broken me to pieces and yes I cried like a river with this book. My rating? 5 out of 5 stars for sure and totally, totally recommend it. Maybe the reason I haven't gone and watch the movie is because I know how it ends and I'm still not quite ready for it???? But, I do want to watch it and I know that I will.
Ah, let me also mention that I loved the writing style and cannot wait to read more of Jojo Moyes books and I have heard nothing but amazing things about her other books. Have you guys read any of her other books?
XOXO,
Nelia