It's the end of 2015 and it's time to look back at all the books that I've read this year and pick my favorites, it's not an easy decision let me tell you, but here are 10 books that I picked out of the 104 that I read this year:
1. The Martian by Andy Weir
Totally my favorite this year, made me laugh out loud, made me cry and made me want to learn more about science, this is the kind of the book that booknerds love. lol
2. Winter by Marissa Meyer
Final book in the Lunar Chronicles, if you haven't started this series yet, PLEASE go and read it because this is like one of my top favorite series of all times. And this book? OMG it was over 800 pages long and I LOVED every single one of them and I could read more and more if Marissa Meyer kept writing. I loved everything about this book and cannot gush anymore about it, so go and read it.
3.Ugly Love by Colleen Hoover
Last year I finished my year reading for the first time a Colleen Hoover book and I felt in love with her writing and this year? I read lots and lots of her books and loved every single one of them, but Ugly Love? My favorite for sure.
4. The Queen of the Tearling by Erika Johansen
Another long book but so well written and that kept you wanting more and I cannot wait to read the next one (I already have, I just have to read it lol). Ah, I read this book during 4th of July weekend and now it just brings back SO many amazing memories.
5. If I Stay by Gayle Forman
When I was narrowing down these books, I knew I had to pick this one fore sure ,why? The story was amazingly written, but also touched really close to my heart. I read this book in about 24 hours and once I was finished I couldn't wait to watch the movie. I cried and cried with this book and totally recommend it.
6. Rebel Belle by Rachel Hawkins
This book had so much hype the year before that I wasn't so sure that I was going to even like it but the minute I started reading? I just fell in love with Harper and OMG, just thinking about it now, I just want to re read it, that's how much I enjoyed. lol
7. Gone Girl by Gillian Flynn
I remember the day when my co workers were talking about this book and I just knew then that I had to read it and that night I just picked it up and was done reading it a couple days and HOLLY MOLLY, so many twists and turns, I have never read a book like this book and that's why it is here. I don't read that many thrillers, so if you guys can recommend some more like this one I would totally read it.
8. Since You've Been Gone by Morgan Matson
Another book that had so much hype and I was a little bit unsure about reading it, but I was in love with it, and I actually didn't want to finish reading once I started. So many adventures in this book and the best part of it all? It's all about friendship and of course throwing in a little romance never hurt anyone.
9. Alive by Scott Sigler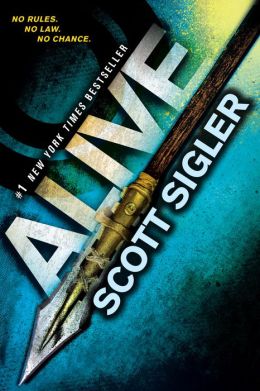 A new author/book that came out this year and totally blew me a way was this one: Alive. I cannot wait to read the next book, it was creepy, scary, adventures and just amazing. I loved it and cannot really recommend it enough.
10. The Fault In Our Stars by John Green
And last but not least FOR SURE, it's TFIOS, I finally gave in and read this book, I totally went to it blind, I didn't watch the movie and when people talked about it and just walked away. I knew it was about cancer teenagers so I knew from the beginning that I was going to cry but OMG, I just didn't know how much it was going to break my heart over and over again. Did you know that it took me over 6 months after finishing reading the book to watch the movie? Yeah, I'm a baby lol
Which books were your favorites this year? And which books would you recommend?
And what are you reading goals for 2016?
XOXO,
Nelia